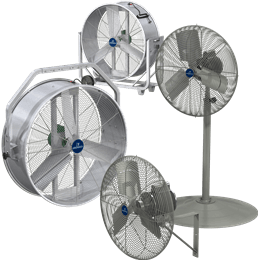 Circulators
Air circulation products are the perfect solution for moving air through the occupied spaces of a building. Whether mounted on the ceiling, wall, or floor, these fans are a flexible and cost-effective way to complement to any HVAC system.
OVERVIEW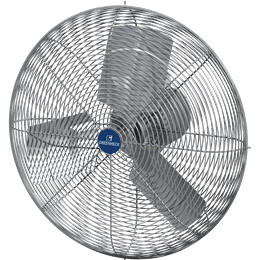 IC
Model IC is a direct drive air circulator designed for air movement where there is a need for spot cooling or recirculating air. Typical applications include factories, warehouses and garages. These units feature two-speed motors and vertical locking tilt adjustments for directing air where needed.
1,320 to 12,500 cfm
100 to 750 fpm
Certifications: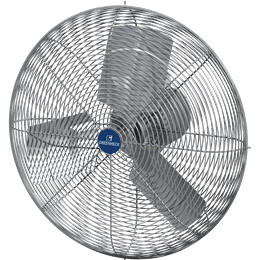 ICO
Model ICO is a direct drive oscillating circulator designed for sweeping air movement. This unit features two-speed motors and sweep through a 45º or 90º arc. Manufacturing plants and warehouses are common applications.
1,320 to 9,612 cfm
100 to 710 fpm
Certifications:
MAC
Mancooler fans move high volumes of directed airflow at low velocity. The fan is available in direct- or belt-driven models and has galvanized steel construction. These fans work well in factories, warehouses and agricultural applications. Multiple mancoolers help improve air quality and comfort when used as part of a general plant ventilation plan.
2,400 to 21,000 cfm
73 to 500 fpm
Certifications: