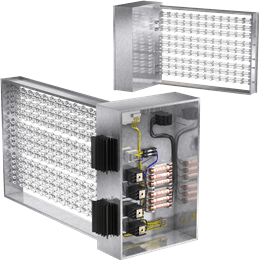 Duct Heaters
Duct heaters used in forced air applications provide dedicated space heat or supplement existing heating systems. Typical applications are:
Space heating
Primary heating
Secondary and/or auxiliary heating
Reheat
Multi-zone and VAV systems
Replacement
OVERVIEW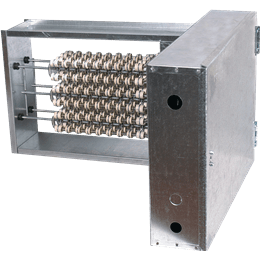 IDHB
The IDHB series is a basic, economical duct heater available in limited sizes. This duct heater features:
UL 1996 licensed
50/60 Hz compatibility
Zero clearance
Fan interlock
Power and control terminal boards
Automatic reset thermal safety switch for primary over temperature protection
Manual reset thermal safety switch for secondary over temperature protection
Heavy gage G60 construction with hinged access cover
Capacity and stages are dependent on voltage/phase and heater dimensions.
Capacity: 39.9 kW maximum
Stages: 3 maximum
Certifications: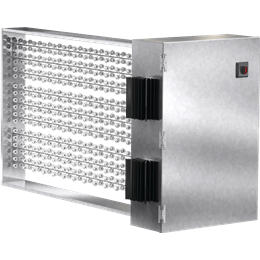 IDHE
The IDHE is a universal duct heater that eliminates the need for right- and left-handed designs. The IDHE has the following features:
Six mounting positions with vertical up and down flow
Rotation to fit the requirements and location of the HVAC system
Standalone duct heater capability
Lower standard heater wire watt density and higher duct to heat coverage
Single- or three-phase
Disconnecting contactors
Recessed or offset control box
80/20 (Ni/Cr) resistance wire
Vapor barrier
Gasketed cover
Capacity is dependent on voltage/phase and heater dimensions.
Capacity: 30 kW per square foot
Certifications: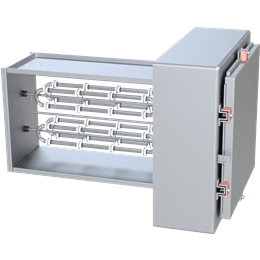 IDHE-O
The IDHE-O is a duct heater that is UL listed for outdoor applications. This duct heater can be mounted in multiple positions like the IDHE.
Six mounting positions with vertical up and down flow
Designed for zero clearance
Recessed control box
Single or three phase
Power fusing required
NEMA 4 enclosure
Certifications: