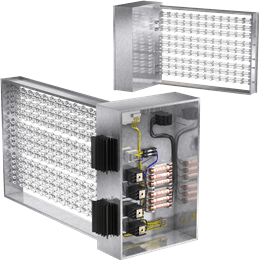 Calentadores para Ductos
Los calentadores para ductos utilizados en aplicaciones de aire forzado proporcionan calefacción a un lugar en específico o complementan los sistemas de calefacción existentes. Las aplicaciones típicas son:
Calefacción de espacios
Calefacción primario
Calefacción secundario y/o auxiliar
Recalentamiento
Sistemas en varias zonas y volumen variable (VAV)
Reemplazo
OVERVIEW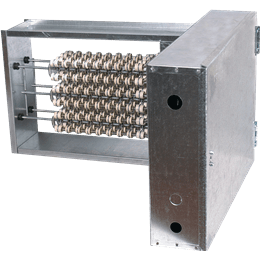 IDHB
La serie IDHB son calentadores básicos para ductos y económicos disponibles en tamaños limitados. Estas son las características de estos modelos:
Certificación UL 1996
Compatibilidad 50/60 Hz
Sin Tolerancia de Instalación "Zero clearance"
Conexión al ventilador
Tablero con Terminales Eléctricas y Tablero de Control
Interruptor Automático para Protección de Sobrecalentamiento
Interruptor de reinicio Manual para Protección Secundaria de Sobrecalentamiento
Construcción de Grueso Calibre G60 con cubierta de acceso con bisagras
La capacidad y las etapas dependen de las dimensiones de voltaje/fase y del calentador.
Capacidad: 39.9 kw máximo
Etapas: 3 máximo
Certifications: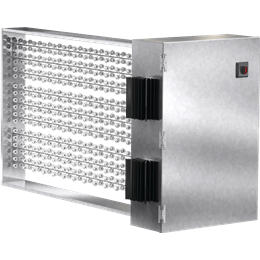 IDHE
El IDHE es un calentador para ductos universal que elimina la instalación de derecha o izquierda. El IDHE cuenta con las siguientes características:
Seis posiciones de instalación con flujo horizontal y vertical
Rotación para adaptarse a los requisitos y la ubicación del sistema HVAC
Capacidad de calentador para ducto independiente
Baja densidad de vatios del cable del calentador estándar y mayor conductividad de cobertura para calentar
Monofásico o Trifásico
Contactores de Desconexión
Caja eléctrica empotrada o desfasada
Resistencia del cable 80/20 (Ni/Cr)
Cortina de vapor
Cubierta con sello
Certifications: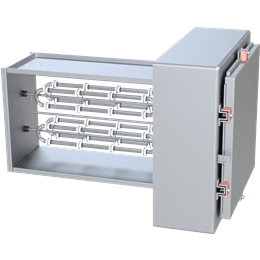 IDHE-O
The IDHE-O is a duct heater that is UL listed for outdoor applications. This duct heater can be mounted in multiple positions like the IDHE.
Six mounting positions with vertical up and down flow
Designed for zero clearance
Recessed control box
Single or three phase
Power fusing required
NEMA 4 enclosure
Certifications: