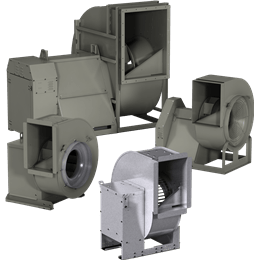 Centrifugal Blowers
A centrifugal utility set or blower can be utilized in a wide selection of indoor or outdoor, supply or exhaust applications. These can be anything from commercial light to medium-duty general ventilation requirements to those requiring high airflows, manufacturing process, emergency, continuous high-temperature, or grease-laden exhaust. Units have many discharge configurations, which allow different airflow direction without system losses from duct turns. They are fabricated of steel with a wide range of corrosion resistant coatings. Housing designs offered are either lock-seam or fully welded construction. Choice of forward curved, backward inclined, or higher efficiency airfoil centrifugal wheels is available as standard. Options include aluminum or stainless steel wheels. Prior to shipment, each fan assembly is factory run and tested for quality assurance.
OVERVIEW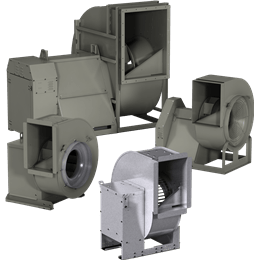 USF
The USF has many construction configurations to choose from.
Galvanized Construction:
This is going to be the most economical fan available for its performance range. Constructed of heavy gauge galvanized steel, these fans are available in direct or belt drive arrangements.
Coated Steel Construction:
Coated steel material allows for the most configurations and a lower cost second to galvanized construction. This would be considered more of a standard fan offering with more options and accessories. These fans offer a corrosion-resistant coated finish and are suitable for spark resistant, restaurant grease exhaust, high temperature or general ventilation applications.
Aluminum Construction:
Aluminum fans are an excellent choice for moist or humid environments where there is concern about the fan's exterior corroding. Aluminum is more costing than steel and doesn't offer the same level of configurations or accessories as steel. Aluminum fans can either be mill-finish or coated.
Stainless Construction:
Stainless fans are the most expensive, but the only choice in applications requiring continuously high airstream temperatures. Stainless fans are mill finish and like aluminum and galvanized fans, have a more limited offering than coated steel fans.
The USF product has many types of wheels available in multiple grades of construction to meet the required level of performance.
Forward-Curved (FC): Economical wheel. The forward-curved wheel has poor efficiency, but is low cost and quiet.
Backward-Inclined (BI): Standard wheel. The backward-inclined wheel is a general-purpose type capable of performing most applications and available in multiple materials.
Airfoil (AF): Premium wheel. The airfoil wheel offers a higher efficiency for reducing energy consumption.
The USF is designed to handle small to large volumes of air at low-to-high pressures in commercial and some industrial applications. These fans fit a broad range of fan applications such as hazardous environments, emergency smoke control, spark resistance, high volume/pressure capabilities, etc. Alternate construction materials are also available for corrosive or extreme high-temperature applications. Split housing also available for limited access installations.
Arrangements 1, 4, 8, 10
Up to 160,000 cfm
Up to 21 in. wg
Spark A, B or C resistant construction available
Alternate material construction: Aluminum and Stainless steel
Certifications:
UL/cUL Listed for Electrical (UL/cUL-705), Grease Exhaust (UL/cUL-762) and Power Ventilators for Smoke Control
AMCA licensed for FEI, Air & Sound Performance