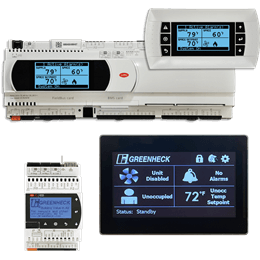 Make-up Air Controls
Investigate a full suite of control solutions specifically designed to operate efficiently and effectively. These controllers can operate stand-alone or integrate with building management systems (BMS). The right solution for your application is here.
OVERVIEW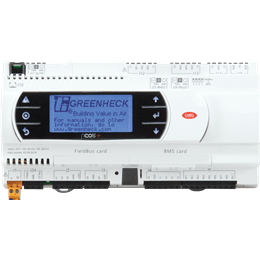 Microprocessor
The microprocessor controls all aspects of a unit's operation. It is factory-programmed, wired and tested to match the configuration for each job. The controller is ideal for jobs requiring standalone unit operation and those requiring building management communication capabilities. Network communication is available over the following protocols: BACnet MS/TP or IP, LonWorks, or Modbus RTU or IP.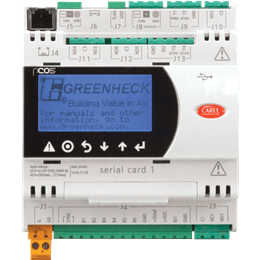 Network Interface
The network interface is optional and allows a BMS to monitor temperatures and unit status points. The network interface integrates with the following protocols: BACnet MS/TP or IP, LonWorks, or Modbus RTU or IP.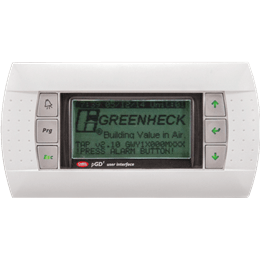 Remote Interface
End-users no longer need physical access to the unit mounted microprocessor to adjust control point parameters. The optional remote interface displays and allows control point parameters to be adjusted. The remote interface is available as an accessory to the microprocessor or network interface.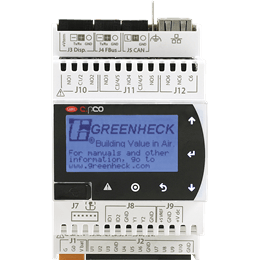 Furnace Control
Indirect gas-fired furnace units come with a standalone furnace controller. The furnace control has a keypad and easy-to-read LCD display allowing users to adjust all set points, lockouts and delays. It includes a furnace-commissioning menu with preprogrammed steps through the furnace start-up. The controller monitors furnace operations for alarm conditions. The unit will record the alarm description, time, date, available temperatures and furnace status for the user. The furnace control also reserves a digital output for remote alarm indication.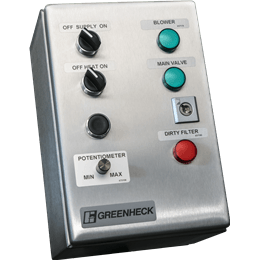 Remote Panels
The optional remote panel makes field wiring between the remote panel and unit easier. Labels are the same for terminals on the remote panel and unit (example: R to R, G to G, etc.). What's more, switches on the remote panel replace the need for someone in the field to provide contacts for fan enable, heat enable and cooling enable. Indicator lights for operation, warnings and alarms are available options on the remote panels. Remote panels fit in NEMA rated enclosures (1, 2, 3, 3R, 4, 4X and 12) for many applications.