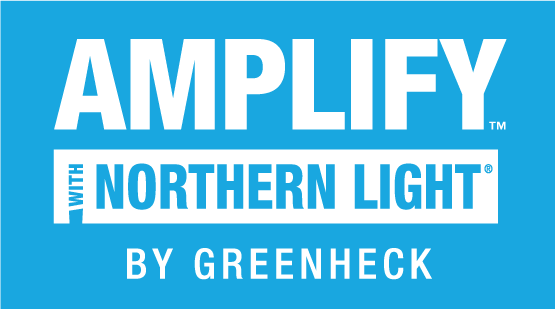 Unrivaled Virus Mitigation.
Healthier, Safer, Indoor Air.
Innovative design boosts effectiveness of UV-C light by 60%. AMPLIFY™ with Northern Light® technology combines the air cleaning benefit of upper-room UVGI and the air circulation of HVLS fans, creating the industries most efficient indoor air cleaning solution.
UV-C Light — Proven, Powerful, Effective
Upper room UV lighting systems (also known as UVGI - ultraviolet germicidal irradiation systems) have been used for decades to fight infection in medical facilities. This proven technology is recommended by the CDC, ASHRAE, and other organizations as an effective solution to reduce the risk of airborne virus transmission, and its use has recently expanded into commercial ventilation systems.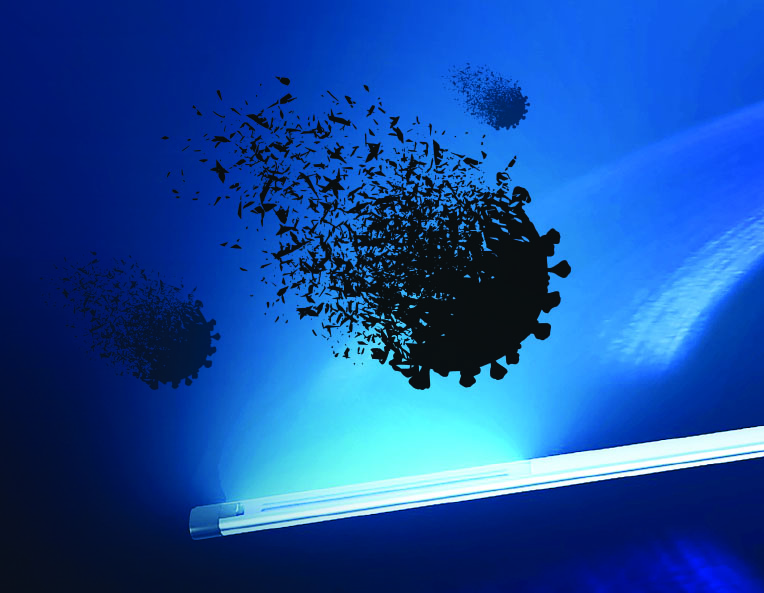 How Does UV-C Light Inactivate Pathogens?
UV-C radiation inactivates pathogens by damaging their genetic material (DNA or RNA) rendering the affected virus or bacteria unable to replicate. The amount of UV-C light needed, also called the kill does is well established for a variety of airborne pathogens. Typically, a kill dose refers to the amount of radiation (joules) required per square meter to kill or inactivate 90% of the microorganism.
LEGIONELLA PNEUMOPHILIA
Bacteria
9 J/m2
SARS-COV-2
Virus
17 J/m2
SALMONELLA ENTERITIDIS
Bacteria
40 J/m2
POLIO VIRUS
Virus
58 J/m2
TUBERCULOSIS
Bacteria
60 J/m2
HEPATITIS A
Virus
73 J/m2
ROTAVIRUS
Virus
81 J/m2
Source: https://www.fda.gov/medical-devices/coronavirus-covid-19-and-medical-devices/uv-lights-and-lamps-ultraviolet-c-radiation-disinfection-and-coronavirus#coronavirus
Source: https://uvsolutionsmag.com/stories/pdf/archives/180301_UVSensitivityReview_full.pdf
AMPLIFY with Northern Light's design directs UV-C light away from occupants, minimizing UV radiation exposure for safe use in occupied spaces. Installed at a minimum of 10 feet above the floor, further prevents direct line of sight to UV-C lights.
Independent third-party research conducted by the Danish Technological Institute (DTI) concluded that AMPLIFY with Northern Light is "the most efficient system for disinfection and distribution of large air volumes while occupants are present in the room."
Innovation Applied™
How AMPLIFY with Northern Light Technology Works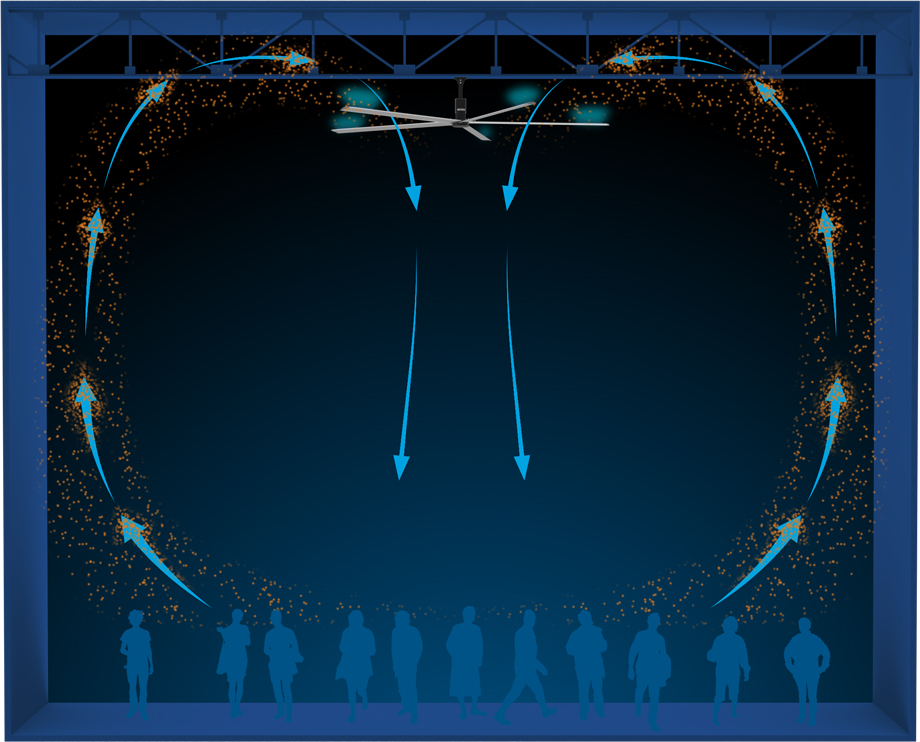 Air Movement
As the fan operates, contaminated air from the lower portion of the room is circulated to the ceiling where it is exposed to powerful UV-C light as it moves across the fan's blades. The resulting clean air is then circulated back into the lower portion of the room where occupants are present, thereby lowering their risk of infection.
Light Placement
Non-ozone generating UV-C bulbs are installed near the tips of the AMPLIFY fan blades where the majority of air movement occurs. UV-C light is directed upward, exposing airborne pathogens to a kill dose and quickly inactivating them.
Backed by Research and Data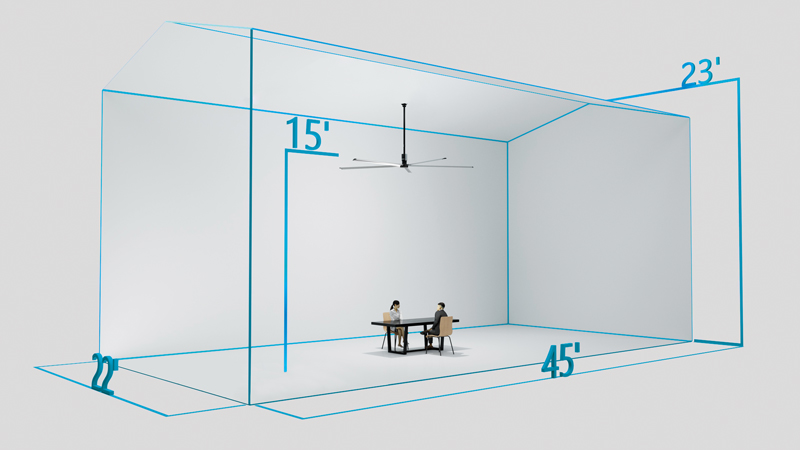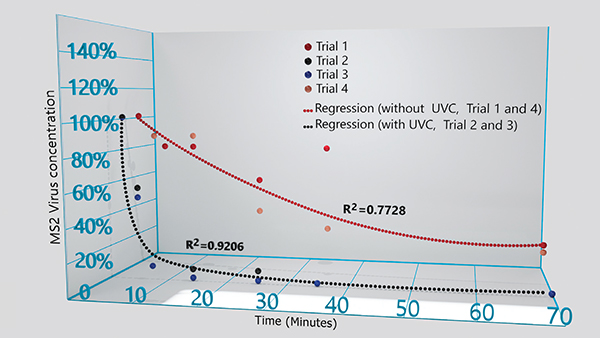 Unlike competitor air cleaning products that are tested in small laboratory settings, AMPLIFY overhead fans with Northern Light technology have been tested in conditions that simulate real-world applications.
Using a space representative of a classroom or automotive garage, independent researchers from the Danish Technological Institute performed full-scale testing of the Northern Light system using aerosolized MS2 virus. MS2 virus contains an ssRNA (Single Stranded Ribonucleic Acid) genome similar to SARS CoV 2 (coronavirus that causes COVID-19) making it a viable surrogate virus for the purpose of this research.
In the largest controlled experiment studying inactivation of airborne viruses using UV-C light, the Northern Light system demonstrated effective air movement and disinfection. Results show greater than 91% inactivation of the MS2 virus after 10 minutes of exposure to the UV-C light and air movement provided by the fan, and 95% inactivation after 15 minutes**.
** Results will vary based on room size and number of HVLS fans present.
For an Executive Summary of the research findings, click here.

AMPLIFY DC-5

+ NORTHERN LIGHT
Available in 10", 14" and 16" Blade Sizes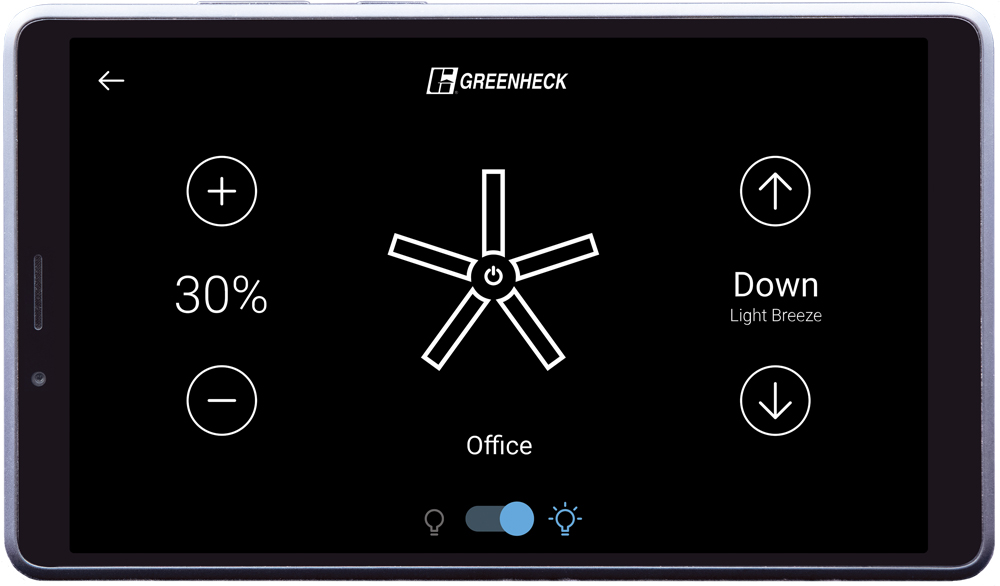 AMPLIFY OVERHEAD FAN BLUETOOTH TABLET CONTROL
Tablet Control Included with Purchase