Nearly 40 hurricanes and tropical storms have made landfall in the United States (U.S.) and its territories in the past 10 years. These storms pose an extreme risk for inhabitants of the areas affected. This risk includes injury and loss of life. Risk also extends to damage incurred to property—homes, businesses and infrastructure—and the cost to repair or replace. Hurricanes and tropical storms deliver extreme wind-pressure loading, wind-borne debris, coastal flooding, and wind-driven rain wreaking havoc in those areas. The estimated financial impact of these storms totals nearly $60 billion each year.
Louvers designed for use in areas known as the Hurricane-Prone Region (HPR) have many code requirements. These include wind-driven rain testing and high wind-load pressure design criteria, along with wind-borne debris impact testing. All code requirements ensure products protect as intended, but will take more space than is available for this post.
We will start with wind-driven rain testing and discuss the others in upcoming posts. The following is what design professionals, contractors, building owners, and building inspectors need to know about wind-driven rain testing in the hurricane-prone region.


Where is the Hurricane-Prone Region?
The Hurricane-Prone Region actually comprises more than one geographic location of the U. S. It stretches from the Gulf Coast and up the majority of the East Coast of the U.S. However, it also includes Hawaii, Puerto Rico, Guam, Virgin Islands, and American Samoa. Seventeen states are affected in part or wholly by the Hurricane-Prone Region. (Figure 1) These areas, as defined by the International Building Code (IBC), are where the basic wind speed for Risk Category II buildings is greater than 115 mph.
Figure 1
A large number of population centers are located in the Hurricane-Prone Region, including:
Houston TX
Tampa FL
Raleigh NC
Long Island NY
Galveston TX
Fort Myers FL
Fayetteville NC
Hartford CT
Baton Rouge LA
Miami FL
Wilmington NC
Providence RI
New Orleans LA
Orlando FL
Norfolk VA
Boston MA
Gulfport MX
Jacksonville FL
Newport News VA
Cape Cod MA
Biloxi MS
Savannah FL
Coastal Maryland
Honolulu HI
Mobile AL
Charleston NC
Coastal New Jersey
Pensacola FL
Columbia SC
Portions of New York City
Third-Party Testing
Air intake and exhaust louvers in the Hurricane-Prone Region must comply with the Air Movement and Control Association, International (AMCA) standard 550 based on the most recent iterations from the International Mechanical Code (IMC), beginning with IMC version 2012.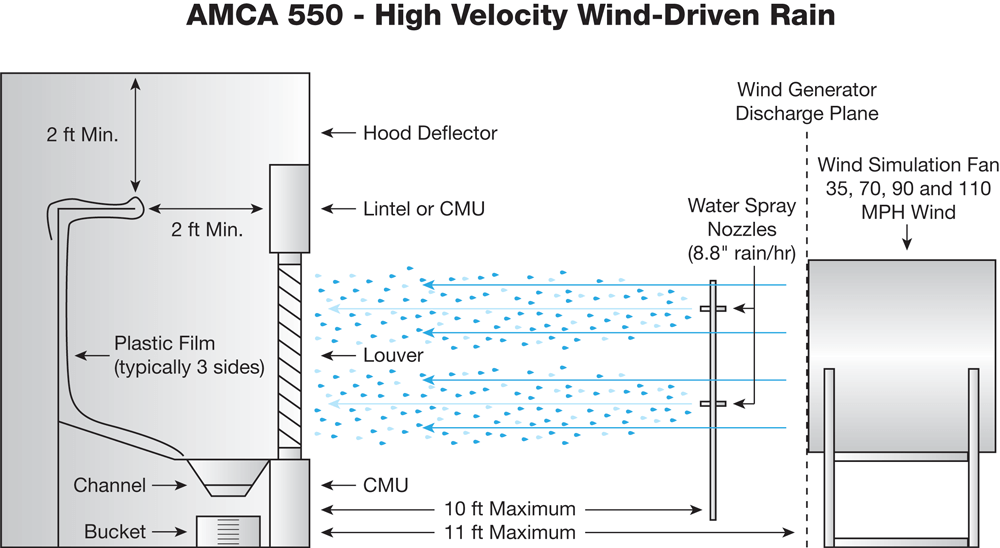 Figure 2
AMCA 550 simulates extreme horizontal driving rain by positioning a fan in front of a louver test specimen, simulating a 35, 70, 90, and 110 mph wind. Water spray nozzles located between the fan and the louver simulates a rainfall rate of 8.8 inches per hour using 250 gallons (+/-) of water. The dynamic test duration is 50 minutes, broken down into 15-minute segments of 35, 70 and 90 mph. The final segment of the test is at maximum (110 mph) for five minutes. AMCA 550 is a pass/fail test. More than one percent of total sprayed water volume (2.5 gallons +/-) collected behind the test louver is cause for failure. Less than one percent is a passing grade. (Figure 2)
Only a select few louver types pass the stringent AMCA 550 test standard. AMCA 550 louvers typically are high-performance vertical blade louvers (Figure 3) and dual-module louvers with horizontal front blades and vertical rear blades (Figure 4). However, AMCA 550 allows for either open or closed device products, making use of combination louver/damper products with dampers in the closed position common (Figures 5, 6). The closed device, or dampered products that comply with AMCA 550 are for use in unoccupied facilities during a hurricane of tropical storm. Whereas fully open louvers that comply with AMCA 550 may be applied in either unoccupied or occupied facilities that must remain operational during severe weather event.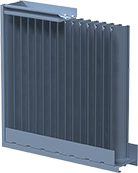 Figure 3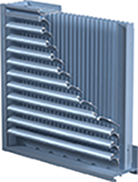 Figure 4
Figure 5

Figure 6
IMC does not specifically dictate AMCA 550 approval or certification as the code language for intake or exhaust louvers in the HPR states that louvers shall "comply with AMCA 550." We recommend that design professionals specify and contractors
install louvers in the HPR that bear the AMCA listing label for High Velocity Rain Resistance
(Figure 7).

Figure 7
Louvers