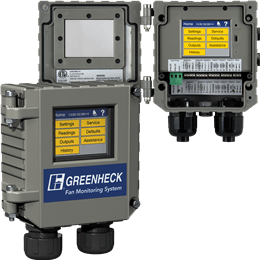 Fan Monitoring Systems
The fan monitoring system (FMS) allows facilities and maintenance managers the ability to stay connected with the performance of critical ventilation products. The FMS package includes a preprogrammed monitor along with a wide selection of commonly applied sensors to monitor overall equipment health, plan maintenance, and monitor energy usage.
OVERVIEW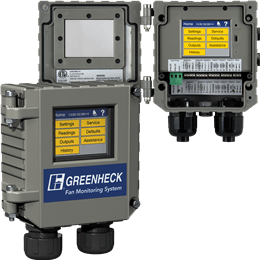 FMS
Available with different sensor packages, the FMS sends the desired specific information to the building management system for trend analysis or current fan operation conditions. The FMS offers a preprogrammed monitor with fault settings for alarms. The easy to use LCD touch screen allows for customized settings and programmable reminders. Schedule maintenance based on fan operation and not the calendar. Sensor kits are available for system pressure, system temperature, vibration level, bearing temperature, fan speed or motor amp draw. The fan monitoring system is for use with any fan type.