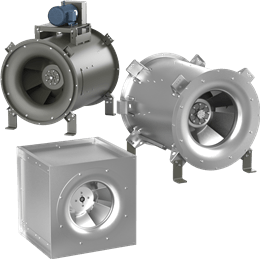 Mixed Flow Fans
Mixed flow fans are more efficient than comparably sized inline tubular centrifugal and vane axial fans, operating at a lower sound level, reduced motor horsepower, and lower operating costs. Mixed flow inline fans are used for supply, exhaust, or return air installations indoors or outside.
OVERVIEW

SQ Mixed Flow
Model SQ is a direct drive square mixed-flow inline fan designed for intake, exhaust, return or make-up air applications when efficiency and low sound are major issues. Units feature a Vari-Green
®
EC motor and a galvanized steel housing designed to allow easy installation and maintenance.
Up to 27,497 cfm
Up to 3 in. wg.
Certifications:
AMCA Air & Sound
Optional UL/cUL 705 on select sizes and configurations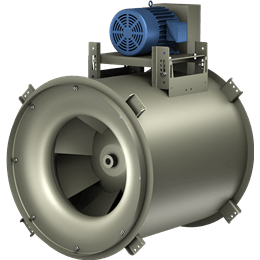 QEI
The QEI is a belt drive mixed flow fan for commercial, institutional and industrial applications handling clean air, or grease laden, high-temperature exhaust. Different design levels match construction to application for best performance and the most economical solution. Applications include libraries, theaters, garages, and kitchen exhaust.
1,100 to 116,000 cfm
Up to 8 in. wg
Spark B and C resistant construction available
Certifications:
OSHPD
UL/cUL Listed for Electrical (UL/cUL-705), Grease Exhaust (UL/cUL-762), and Power Ventilators for Smoke Control
AMCA licensed for FEI, Air & Sound Performance

QEID
Model QEID is the direct drive version of the QEI with the mixed flow wheel direct connected to the motor. The QEID has the same construction options as the QEI, but with better performance and higher efficiency by eliminating losses through belts, pulleys and fan shaft bearings. Plus, as a direct drive, the QEID has the added benefit of reduced maintenance by removing these same components. The design is more compact for space critical application.
700 to 88,000 cfm
Up to 10 in. wg
Spark B and C resistant construction available
Certifications:
UL/cUL Listed for Electrical (UL/cUL-705) and Power Ventilators for Smoke Control
AMCA licensed for FEI, Air & Sound Performance