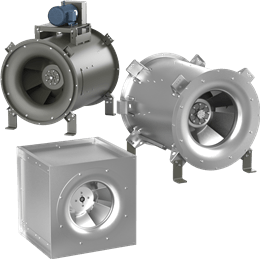 Mixed Flow Fans
Mixed flow fans are more efficient than comparable sized centrifugal and axial fans. They operate at lower sound levels with lower operating costs. Greenheck mixed flow models have a range of capabilities and features for different applications.
OVERVIEW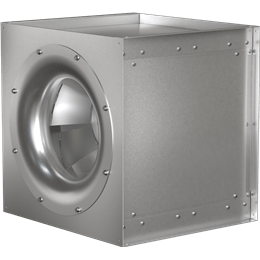 SQ Mixed Flow
Model SQ is a direct drive square inline mixed flow fan designed for intake, exhaust, return or make-up air applications when efficiency, sound and cost are a major focus. Units have multiple mounting options for indoor and outdoor locations, Vari-Green® EC motors and a variety of accessories that make this model a great solution for many applications. All of these features add up to make the SQ Mixed Flow fan the most cost effective mixed flow option on the market.
Up to 27,800 cfm
Up to 3 in. wg
Galvanized or chemical resistant coated steel housing
Certifications:
UL/cUL 705
AMCA licensed for FEI, Air & Sound Performance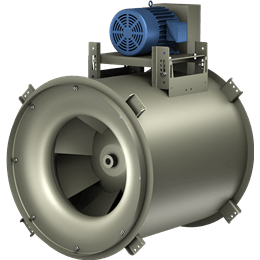 QEI
The QEI is a mixed flow fan for commercial, institutional, and industrial applications handling everything from clean air to high temperature exhaust. Model offers multiple construction levels to match the application providing best performance at the most economical solution. Features performance enhancing airflow straightening vanes and easily accessible motor outside of the airstream. The QEI model has a variety of mounting options for indoor and outdoor locations.
1,100 to 116,000 cfm
Up to 8 in. wg
Spark A, B and C resistant construction available
Galvanized, chemical resistant coated steel or aluminum housing material options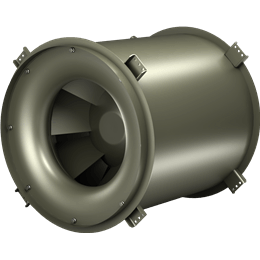 QEID
Model QEID is a compact, direct drive version of the QEI for space critical applications. It requires less maintenance with fewer components, while airflow straightening vanes assist in improved performance. For best value by application, the QEID has the construction level options, but with performance and lower maintenance benefits by eliminating belts, pulleys and fan shaft bearings. Vari-Green® EC motors or induction motors with factory programmed VFD provide easy adjustment and control.
700 to 88,000 cfm
Up to 10 in. wg
Spark B and C resistant construction available
Galvanized or chemical resistant coated steel housing material options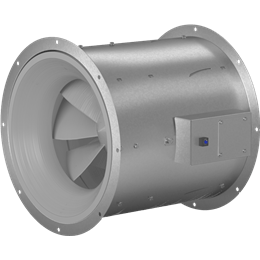 QEID FJ
Model QEID FJ Fume Jet is an ideal fan for exhausting chemical or odor-laden air. Standard with Spark A resistant construction, it provides the highest level of protection. The airstream pathway is constructed of corrosion-resistant, lightweight composite materials and includes a durable flanged casing for duct connections. This direct drive model has an encased Vari-Green® EC motor with uniquely designed hollow support channels isolating the motor from the contaminated airstream and dissipating motor heat to the fan's exterior.
640 to 3,000 cfm
Up to 3 in. wg
Spark A resistant construction
Certifications:
UL/cUL Listed for Electrical (UL/cUL 705)
AMCA licensed for FEI, Air & Sound Performance