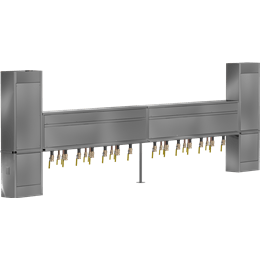 Wall Utility Distribution System
With the utility distribution system, there is no waiting for service personnel to disconnect and reconnect cooking equipment. Gas, electrical, water and other utilities are placed logically for easy use, eliminating costly modifications of plumbing or wiring.
OVERVIEW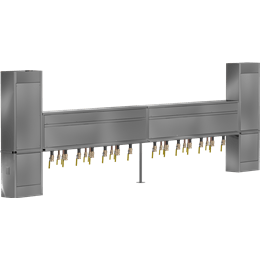 Wall Utility Distribution System (UDS)
Greenheck's Utility Distribution Systems (UDS) provide flexible, convenient and safe utility connections for commercial cooking operations while saving installation time in the field. Factory-built systems offer a cost-effective way to replace contractor built utilities in walls which require a lot of time and energy to be spent coordinating with various trades and allow for future expansion or relocation of appliances without expensive modifications.
Certifications:
NSF Certified – Standard 2
UL/ULC Listed per UL 891
Codes:
ASME
Built in accordance to NFPA 96, NFPA 70 / NEC, and the Uniform Pluming Code
NEMA