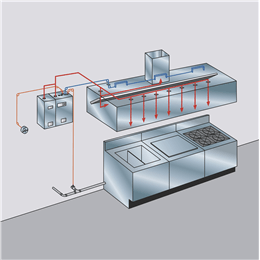 Appliance Specific (Basic)
These are pre-engineered kitchen fire suppression systems using wet chemical agents to provide basic fire protection. Appliance-specific systems like these are for use in commercial kitchens where equipment location is fixed and changes little, if at all.
OVERVIEW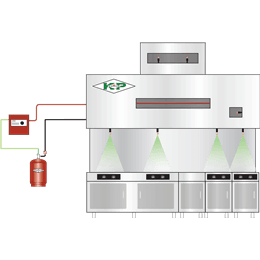 Amerex KP
Appliance specific fire suppression is a wet chemical system to be used when the equipment placement is known with few, if any, changes. Nozzles are selected and aimed at specific hazards on each appliance. The chemical agent itself is a low pH that's non-corrosive to stainless steel and cleans up safely with water and a sponge.
Certifications:
ISO 9001:2000 and ISO 14001:2004 certified
UL/ULC Listed per UL 300
Codes:
Meets requirements of NFPA 17A
Meets requirements of NFPA 96
New York City Department of Buildings (MEA)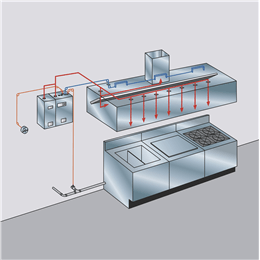 Ansul R-102
The nozzles and placement in an appliance-specific fire system are chosen for the type of cooking equipment it needs to protect. This is the most cost-effective system, as only the appliances that need protection are covered.
Stainless agent tank enclosures
Flexible agent distribution
Additional switches (two SPDT is standard)
Additional pull stations (one is standard)
Certifications:
ABS — American Bureau of Shipping
UL/ULC Listed per UL 300
Codes:
Meets requirements of NFPA 17A
Meets requirements of NFPA 96
New York City Department of Buildings (MEA)