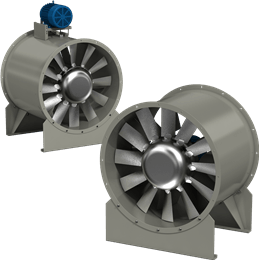 Vane Axial Fans
Vane axial inline fans are the most efficient axial design. Precision machining creates a tight tip clearance between blade tips and the fan housing. Integral straightening vanes redirect swirling airflow after the impeller into a linear flow at the discharge, further adding increased efficiency. Best suited for applications where there are high volumes of air at medium to high pressures, applications include mining, tunnel ventilation and large space ventilation such as atriums, halls, and stadiums.
OVERVIEW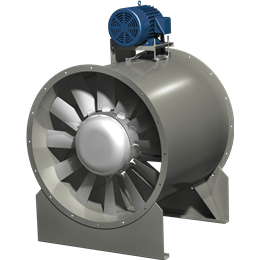 VAB
VAB belt drive models offer flexibility to adjust pulleys and easy access to the motor with low vibration level for smooth operation. System balancing is made through sheave changes or manually adjustable blade pitch.
2,000 to 145,000 cfm
Up to 7.5 in. wg
Certifications:
UL/cUL Listed for Electrical (UL/cUL 705)
AMCA licensed for FEI & Air Performance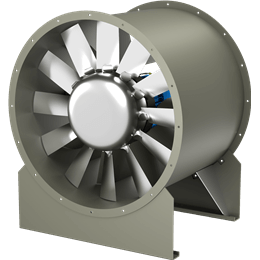 VAD
VAD direct drive model has the most compact design for the available performance range with minimal maintenance and low vibration levels. Final system balancing uses manually adjustable blade pitch.
1,200 to 240,000 cfm
Up to 10 in. wg
Certifications:
UL/cUL Listed for Electrical (UL/cUL 705)
AMCA licensed for FEI & Air Performance