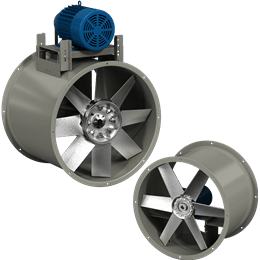 Tube Axial Fans
Tube axial inline fans offer a lower cost option and are applied in ducted and unducted commercial or industrial applications. Applications include general ventilation and warehouse or process exhaust involving high temperature or spark resistance are typical applications. Each model includes integral flanges for airtight duct connections and universal mounting brackets to install in any orientation.
OVERVIEW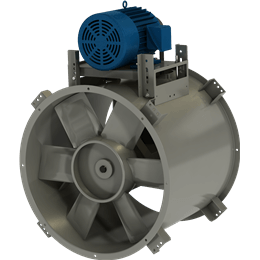 TBI-FS
Model TBI-FS has a fabricated steel hub and airfoil blades. The unit is suitable for continuous high temperature (400ºF/204ºC max.). Bolt-on straightening vanes are available for increased efficiency. Typical applications include clean air, industrial processes, and high-temperature exhaust.
6,000 to 77,000 cfm
Up to 4.5 in. wg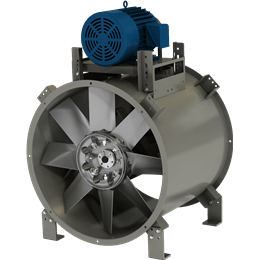 TBI-CA
The TBI-CA is a belt-driven model with a cast aluminum hub and airfoil propellers. Key features are compact size, mounting flexibility, and ease of performance adjustments. Model TBI-CA cast aluminum impeller, sealed internal belt and bearing enclosure meets spark resistant specifications. Typical applications include warehouse, industrial ventilation and paint booth fume exhaust
1,300 to 95,000 cfm
Up to 3.5 in. wg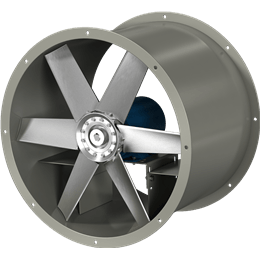 TDI
The TDI direct drive series of axials maximize efficiencies utilizing cast aluminum, airfoil propellers. Main features include compact size and minimal maintenance. TDI fans can use variable frequency drives (VFD) to accommodate modulating performance requirements. Typical applications range from clean air exhaust to emergency smoke control. The TDI has been tested to exhaust airstream temperatures up to 300º F (149º C) for a minimum of 5 hours.
3,000 to 49,000 cfm
Up to 1.1 in. wg
AX
Model AX is a direct drive fan offering increased performance capabilities and several installation configurations to suit project needs. The unit has one casing option: a long casing that completely covers the propeller and motor, and bolt-on vane section with 15% performance improvement. The vane section provides total efficiencies in excess of 70%, which improves efficiency and reduces operating costs.
500 to 125,000 cfm
Up to 5 in. wg