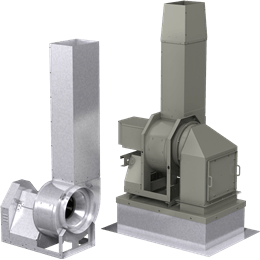 Fume Exhaust Fans
The FumeJet® exhaust fan is a pre-engineered, centrifugal exhaust system. Its design allows for safe exhaust and dispersion of contaminated air in commercial, institutional or industrial applications. FumeJet offers quick and easy package installation; slip-fit stack connections, inlet collar and optional equipment supports. The FumeJet exhaust fan simplifies an installation with options available to configure each unique application as an alternative to a field built-up system. The fan and stack assembly has been designed and factory tested to withstand a force of 34 PSF (equivalent to 115 mph) without the need for guy-wires.
OVERVIEW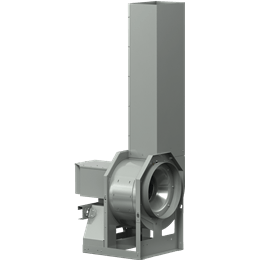 FJI
The FJI is available in belt or direct drive for AMCA class 0, l or ll. Available system heights range from 7 ft (2.5 m) to 15 ft (4.5 m). Options are available for spark resistance, higher temperature or corrosive exhausts. Applications include food packaging, welding, paint systems, and wastewater treatment exhaust systems among others.
200 to 18,000 cfm per fan
Up to 9 in. wg
AMCA Spark B or C resistant construction (available)
500°F max temperature (continuous)
Certifications:
UL/cUL Listed for Electrical (UL/cUL 705)
AMCA licensed for FEI, Air & Sound Performance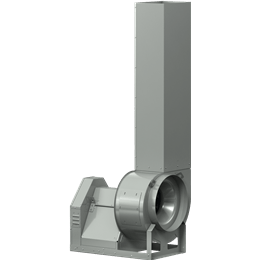 FJC-300
Model FJC-300 is a belt-driven, arrangement 10 unit available in either coated steel and bolted or welded construction, or a galvanized finish and bolted construction. The unit has a compact footprint with motor and drives located under a common weather hood. A corrosion resistant coating allows for use with corrosive exhausts such as those found in wastewater treatment plants, medical instrument sterilization, or isolation rooms.
200 to 5,000 cfm per fan
Up to 4.5 in. wg
AMCA Spark B or C resistant construction (available)
400°F max temperature (continuous)
Certifications:
AMCA licensed Air (AMCA 210) sizes 6 - 10
AMCA licensed Air and Sound (AMCA 210 and 300) sizes 12 -24
Notice Of Acceptance (NOA High Wind)
UL/cUL Listed for Electrical (UL/cUL 705)