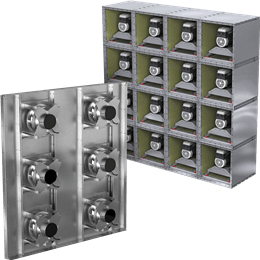 Fan Arrays
Fan arrays are designed and engineered to provide superior performance and reliability in commercial or industrial applications. Greenheck provides made-to-order configurations for new and existing Air Handling Unit (AHU) applications as well as Mission Critical Data Centers. Our products are manufactured with state-of-the-art laser, forming, spinning and welding equipment, and endure our quality control testing to ensure trouble free start-up. We can supply custom configurations to fit your needs.
OVERVIEW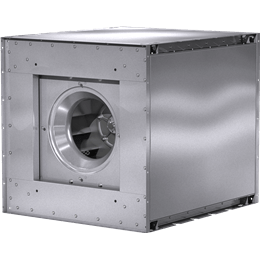 HPA
The HPA model is a direct drive plenum fan mounted inside a sound attenuating housing. Use as a single fan in sound critical applications or in parallel to construct a fan array system. Its modular design with a structural housing allows multiple modules to stack side-by-side and on top of one another to form an array. Typical applications include packaged, built-up and custom air handlers, general supply, and return systems and retrofit projects.
900 to 45,000 cfm per fan
Up to 7 in. wg
Certifications:
AMCA licensed for FEI, Air & Sound Performance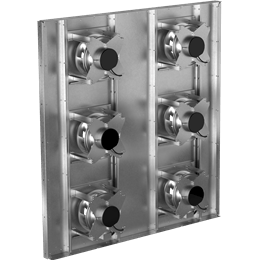 MOA
The new modular open array, model MOA, delivers certified performance with easy-to-assemble components that are designed by you to fit seamlessly in your custom application. Pairing communication and controllability, the MOA is the ultimate turnkey retrofit package. Fan array ships to the job site knocked down for field installation and assembly.
Dimensions - Max. Length 100 ft., Max. Length 100 ft.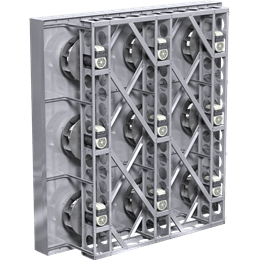 OPA
The OPA is a configurable open plenum array designed and optimized for a specified height and width. Each design point will offer multiple solutions allowing for selections based on the most important criteria such as sound, HP, number of fans or overall efficiency. Construction of the OPA is foam filled galvanized steel panels with laser cut and formed galvanized steel structure. The array is fully assembled and factory tested. The OPA can be designed with NEMA premium AC induction motors up to 10 HP or 3-phase Vari-Green motors with integrated drives providing industry-leading IE5 efficiencies. Aluminum wheel construction is standard on all selections with optional airfoil construction available.
Dimensions: Max. Height 96 in., Max. Length 636 in.