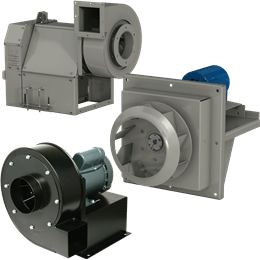 Centrifugal Industrial Fans
Applications for industrial blowers include high airflow volumes, manufacturing process exhaust, grease-laden, and emergency or continuous high-temperature exhaust. Prior to shipment, each fan assembly is factory run and tested to meet acceptable vibration criteria. A wide range of protective coatings is available. Construction is aluminum or stainless steel (airstream only). Backward-inclined or higher efficiency airfoil centrifugal wheels are available with heavy-gauge steel, fully welded or lock-seam housing.
OVERVIEW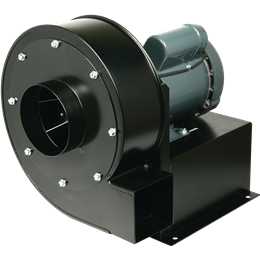 FPB
Model FPB is a pressure blower that uses a radial aluminum blade wheel providing efficient operation and spark resistant construction. Housing design is fully rotatable and constructed of steel with a baked polyester coating. All models are direct drive, arrangement 4 with wheels directly connected to the motor shaft.
200 to 2,500 cfm
Up to 9.5 in. wg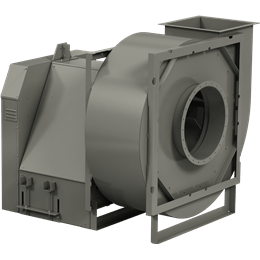 IP
Greenheck industrial process fans are engineered and built for reliable operation in severe environments where high temperatures and static pressures, and material handling requirements are encountered. Model IP uses three different wheel designs and four construction levels to meet specific industrial requirements.
Wheel Types:
Air handling - clean and light material-laden air
Open radial - abrasive dust like grinding and buffing wheel exhaust, fume exhaust, and to convey granular materials, sawdust or wood chips
Back plated/wool - long, fibrous and stringy material such as wood shavings, yarn or paper trimmings
200 to 143,000 cfm
Up to 32 in. wg
Spark A and B resistant construction available
Certifications:
AMCA licensed for FEI & Air Performance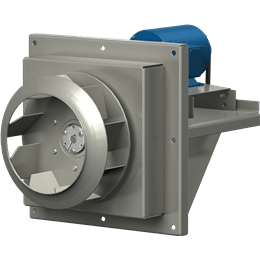 PLG
In most instances, plug fans are unhoused and rely on the plenum space around the backward-inclined centrifugal wheel to direct airflow as required in the system. Model PLG is available in belt or direct drive with steel, aluminum or 316 stainless steel constructions.
900 to 71,000 cfm per fan
Up to 8 in. wg
AMCA Spark B or C resistant construction (available)
800°F maximum operating temperature (optional)