Combination Fire Smoke Dampers
UL 555 and UL 555S classified
Combination Fire Smoke Dampers
UL 555 and UL 555S classified
Combination fire and smoke dampers are used in heating, ventilation, and air conditioning (HVAC) to protect duct and air transfer opening penetrations through fire-smoke rated construction (walls and floors). These dampers are UL 555 and UL 555S classified.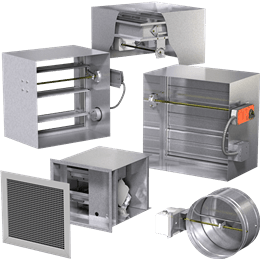 1.5 Hour Fire Rated Dampers
Provide fire/smoke resistance in the duct and air transfer openings through fire-/smoke-rated construction using round, rectangular and out of wall dampers.

3 Hour Fire Rated Dampers
Class I leakage rating with airfoil blades and pressure up to 8 in. wg, velocity to 4,000 fpm and temperature to 350°F.